Verified
Smile Hair Clinic
Istanbul, Turkey
Dutch, English, French, German, Italian, Spanish
Overall rating
(214 Reviews In All Countries)
All reviews are evaluated by our dedicated team to ensure they are written by real patients.
Overall rating
(214 Reviews In All Countries)
All reviews are evaluated by our dedicated team to ensure they are written by real patients.
Verified by Qunomedical
All of our content is based on our own research and information provided by doctors and clinics. This information is continually and thoroughly reviewed by our experts for quality and accuracy to the best of our knowledge.
Felix Pickhardt
Qunomedical Partnerships Team
Visited:
Visited:
It feels like you're visiting a friend.
I really got to feel the great relationship Dr. Mehmet and Dr. Gökay have with each other and their patients. They maintain a high quality of care while making it feel like you're visiting a friend.
About the clinic
Smile Hair Clinic was founded in 2018 by Dr. Gokay Bilgin, MD, and Dr. Mehmet Erdogan, MD. Both are renowned specialists within their field and have carried out hair transplant surgeries in major hospital chains across Turkey.
The primary mission here is to make patients feel at home. Renowned Turkish hospitality and high standards of care have been consistent characteristics of the friendly atmosphere within Smile Hair Clinic. Istanbul is where you can find the practice, which has since relocated to a large, brand new premises in the city's financial district.
At this clinic, successful outcomes are guaranteed for all patients. All of the clinic's operations are supervised by physicians and each team member involved in the operation has a medical education background. To date, thousands of international patients have undergone successful hair transplant surgery at Smile Hair Clinic; reviews can be seen below attesting to their excellence.
Hair transplant techniques offered at Smile Hair Clinic include micro-sapphire FUE (follicular unit extraction) which is the most advanced and the most recent hair transplantation technique. The direct hair implantation (DHI) method is also available for those who are looking for smaller amounts of coverage or adjustments to their hairline.
The team is well-versed in caring for international patients. Treatment packages include services such as airport pick-up and drop-off, hotel booking, visa assistance, and translation services.
...
Located in the heart of Istanbul, Smile Hair Clinic is a convenient 35 miles from Istanbul International Airport and only 23 miles from the alternative Sabiha Gokcen Airport, with good inner-city connections making it easy to get around. Istanbul itself is a spectacular city to visit. With its mix of cultures, large number of museums, and hundreds of years of history, visitors enjoy exploring this dynamic and bustling city all year round.
Videos
Smile Hair Clinic Video
More Videos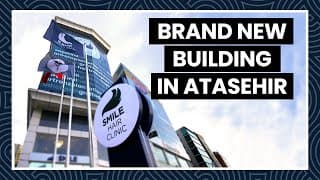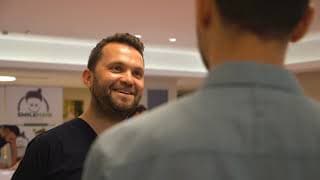 Reviews
(214 Reviews In All Countries)
owen kitto,
I found this company by coincidence and…
I found this company by coincidence and I had my first HT in 2018 all very well organised professional took the stress out of booking. Easy to sort out very professional team. I have had my second procedure and it went very smooth easy booking system no problems at all. Very happy
Daniel T.,
I would 100% recommend and encourage anybody that seeks this procedure to use Smile hair clinic...
Hi my name is Daniel Tenniswood, I'm 38 yrs old and I'm from Newcastle Upon Tyne in England, I 1st heard about smile hair clinic from a friend and after speaking to one of their representatives who informed me about the packages they offered and answered any questions and queries that I may have had I decided that I liked what I heard and would take up one of the package deals that interested me , this particular package was an easy choice as the clinic took care of all of the details other tha... Show more
Verified patient
Sean G., Ireland
I can recommend smile hair clinic 100%
The whole experience was brilliant. Every person ever step of the way just went perfect. Picked up from the airport dropped to a great hotel ect. Smile Hair Clinic was 100%. The whole experience was great went perfectly every step of the way.
Verified patient
Robert C., Ireland
Hair Transplant
Felt very comfortable and looked after. Great experience
Verified patient
Martin H., United Kingdom
Excellent value for money.
The whole experience was very good. The transfers and communication went smoothly. The doctors and all the staff were friendly and helpful. I would recommend Smile Hair Clinic to anyone who is looking for a hair transplant.
Verified patient
Gerrj P., Italy
Smile hair clinic transplant experience
I can say that I am satisfied with the service and cordiality... I have been operating for 10 days and so far everything is going well... we will see in a few years... regards Mandi
Verified patient
Devon R., Ireland
Hair transplant
great experience from start to finish
Verified patient
Anthony N., United Kingdom
Great clinic and great hotel.
From getting off my flight in Istanbul i was looked after until they returned me to airport. Friendly staff, great hotel with lovely restaurant attached. The procedure was pretty painful for the first 10-15 minuted until the anaesthetic kicks in they you don't feel much pain at all. Its just uncomfortable and boring for 7-8 hours. Overall I am happy with how my treatment went however i will not see results for a few months yet. Was a slight misunderstanding with my payment as i chose to pay... Show more
Verified patient
Tomasz G., Ireland
Overall a good experience with minor bumps
Booking experience and contact with Qunomedical was very good. I am 26 and had so called "widows peaks" (circular bald spots on the sides). I could hide them using my curly hair but with wind or when I sweat, they became more visible and it bothered me. People told me "you cant even see it" but it doesnt matter what others cant see, you see it for yourself and it bothers you. I chose Hair Smile Clinic and I personally cant give a proper review of the result yet because I am on day 13. I can j... Show more
Verified patient
Alex F., United Kingdom
Great experience
I came to smile clinic for a hair transplant recently and was blown away by how smooth the whole experience was. From being picked up at the airport to the procedure it is all done for you to perfection. Could not recommend more.