In vitro fertilisation (IVF) is a form of assisted reproductive technology. It is estimated that more than 8 million babies were born thanks to IVF and other fertility treatments since the 1970s. The procedure involves combining an egg with a sperm sample in a laboratory and then transferring it back into the female's uterus.
HOW DOES IT WORK?
What is in vitro fertilisation?

In vitro fertilisation (IVF) is a procedure which involves fertilising the egg of a female outside the human body. Instead of sperm fertilising the egg within the uterus, fertilisation takes place in laboratory conditions, and the resultant embryo is then implanted in the woman's uterus.
The process is commonly used in cases where women are unable to conceive naturally, which could be due to conditions like endometriosis, damaged fallopian tubes or simply unexplained infertility. IVF is also used in cases where men suffer from low sperm count or sperm motility.

How is IVF done step by step?

Here is a breakdown of how in vitro fertilisation works step by step.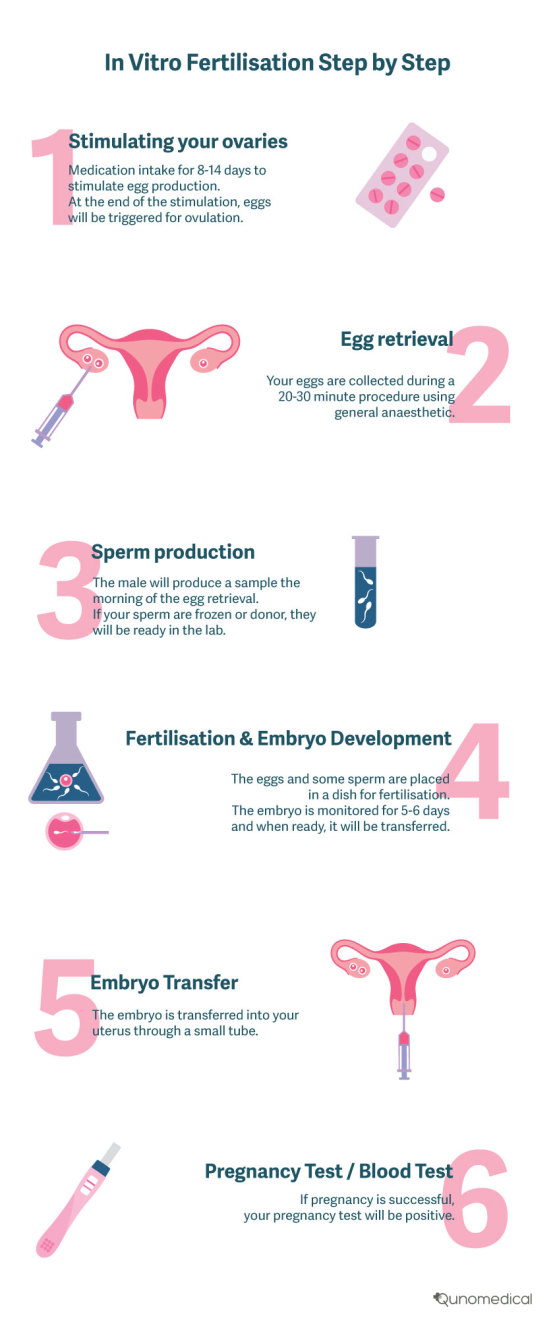 1. Stimulating your ovaries


The IVF process actually starts long before the treatment itself. You will be prescribed a round of fertility medications, usually in the form of injections, in order to stimulate egg production. Typically, it will be 2 injections per day (1 in the morning and 1 in the evening) that you can carry out yourself at home. Your doctor may perform ultrasounds around day 8 to ensure that the eggs are developing. You will get a "trigger injection" towards the end of the stimulation to get your eggs ready for ovulation. Shortly after this, your egg retrieval will happen.


2. Egg retrieval

The second step in the IVF process involves collecting your eggs. This is an outpatient procedure that may last 20 to 30 minutes under general anesthesia. The procedure involves guiding a hollow needle into each ovary to obtain the eggs. The specialist utilizes ultrasound imaging throughout the procedure to make it as quick and efficient as possible. Before the retrieval, the specialist will use ultrasound imaging to get an idea of how many eggs can be collected. The average number collected is 8-15 eggs. You will be able to leave the office that day but make sure you have someone to pick you up.


3. Sperm production

Once the eggs have been extracted, the man will be asked to provide a sperm sample to combine with the eggs. If the woman is utilizing a sperm bank, the previously selected donor sperm will be ready in the lab.


4. Fertilisation and embryo development

The next step in the IVF process involves fertilisation. Your eggs and some sperm will be placed in a dish (in vitro), where they will have the chance to find each other and fertilise like they would naturally in the body. The resulting embryos will be put into a special incubator for optimal growth and development. It can take anywhere from 3 to 6 days before the fertilised eggs have developed into embryos. They will be transferred to your uterus once ready.


5. Embryo transfer

In vitro fertilisation finally involves transferring the embryos to your uterus. This procedure is pretty simple, similar to a pap smear. Your fertility specialist will place the embryos into a small tube (catheter). The catheter is then placed through your cervix and the embryos are deposited into your uterus. It takes about 5 minutes, you'll be awake, there's no anaesthetic, and you can get up straight away. You can continue with your day, the embryo can't fall out if you stand up or go to the toilet.
It is recommended that you try to relax and take it easy, especially during the 2 weeks after implantation. Try to eliminate all stress to achieve the best possible condition for the embryos to implant successfully. In order to help achieve maximum chance of success for implantation, you might also be provided with progesterone to administer into the vagina for around 10 days.
If you notice some light bleeding during this time, there is generally no reason to be worried. This phenomenon can be normal and is called "implantation bleeding." However, inform your doctor if the bleeding becomes heavy.


6. Pregnancy test to verify if IVF cycle successfully resulted in pregnancy

You can take a pregnancy test 10-14 days after the embryo transfer. It is recommended to wait for the blood test at the clinic as home pregnancy tests might yield false results due to the high level of hormones in your body.


What should I expect from in vitro fertilisation?

Success rates for in vitro fertilisation depend on different factors, including age. Women under the age of 35 have a 40% chance of achieving pregnancy via IVF, while the figure for those aged over 40 is around 11%.
If the first IVF cycle was not successful, you might have the option to undergo a second one. Many patients undergo multiple cycles before achieving a successful pregnancy. It is not uncommon that women undergoing IVF produce too many eggs for implantation, giving them the option to freeze these eggs for future use and avoid the stimulation and retrieval phases in the following cycles.
IVF procedures should not be painful, although minor cramping and discomfort can accompany the implantation stage. Side effects are generally mild, but can include constipation, breast tenderness, hot flashes, weight gain, nausea and headaches. However, recovery from the implantation is virtually instant, and patients can leave the clinic on the same day.
Women may also experience psychological side effects of the IVF process. The hormones used to stimulate egg production are associated with mood swings and depression, while the anxiety of seeking a successful result can also be psychologically challenging. Make sure to have someone who can support you throughout your journey. If you need support finding the right fertility specialist, we're here for you.