According to the latest estimates from the World Health Organization (WHO), more than 300 million people worldwide live with depression. These estimates make depression the leading cause of ill health and disability at a global scale. The number of people with depression increased by more than 18% between 2005 and 2015.
Below world statistics on depression, as reported by the WHO.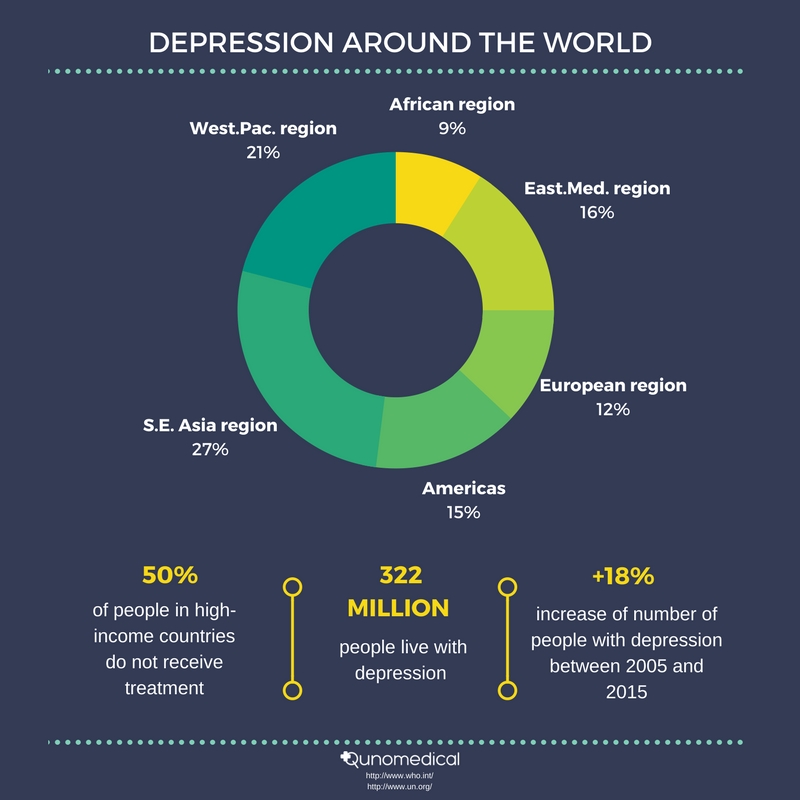 Depression around the world according to regions, as specified in the infographic:
| Region | Percentage |
| --- | --- |
| African region | 9% |
| Eastern Mediterranean region | 16% |
| European region | 12% |
| South-East Asia region | 27% |
| Region of the Americas | 15% |
| Western Pacific region | 21% |
Nearly 50% of these people live in the South-East Asia region and Western Pacific region, reflecting the relatively larger populations of those two regions (which include India and China, for example).
In order to raise awareness, the 2017 World Health Day (April 7th) will focus on depression. To this aim, the WHO has organized a year-long campaign, Depression: let's talk.
In terms of support available for people with mental health disorders, the need of increased investments is clear. Even in high-income countries, nearly 50% of people with depression do not get treatment. On average, just 3% of government health budgets is invested in mental health, varying from less than 1% in low-income countries to 5% in high-income countries.
How is depression affecting the elderly?
Depressive disorders involve sadness, loss of interest or pleasure, feelings of tiredness, disturbed sleep or appetite, feelings of guilt or low self- worth, and poor concentration. Depression impairs the ability of an individual to function at work or school and cope with daily life.