What is egg freezing?
Egg freezing (also known as social freezing) is a cryopreservation technique where a woman's mature eggs are frozen and stored for later use. While shattering the biological clock wasn't an option years ago, today women can feel more empowered to take charge of their family future. "The ideal age to get pregnant would be around 25", says Inge Kormelink, Head of International Strategies and Policies at IVF Spain. "When this is not an option - either because it's not the right time or they haven't found the right partner - freezing eggs might be a great option to put off having a family."
Egg freezing was initially developed to 'safeguard' fertility in those women who were undergoing medical treatment that would alter their ovarian health, such as chemotherapy or radiotherapy, but it is now increasingly used by women wishing to conceive later. As a woman's fertility – including her ovarian reserve and egg quality – declines with age (and considerably so after 35), egg freezing offers one option to those wishing to have a family later in life.
How does egg freezing work?
Egg freezing has been around since the 1980s but older techniques yielded low success rates due to the delicate nature of egg cells. Recent developments allowed a new freezing technique, known as 'oocyte vitrification', to get a foothold and scale up the possibility of freezing, storing, and thawing viable eggs.
As displayed below, egg freezing is typically a 5-step process: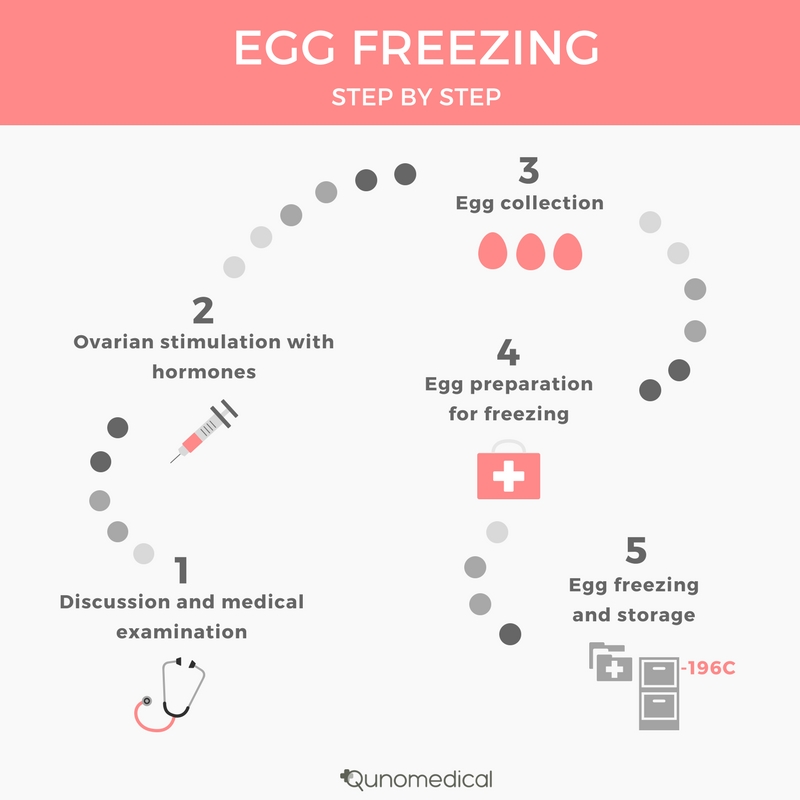 1. Discussion and medical examination The first step involves a detailed consultation and a preliminary medical examination that includes blood and hormonal tests. The goal is to understand the fertility potential of a woman including a full, in-depth evaluation of her reproductive system. Moreover, physicians understand if a woman meets all prerequisites to freeze her eggs.
2. Ovarian stimulation Once all tests confirm that prerequisites are met, the ovarian stimulation begins. Ovaries are stimulated with hormones to encourage the growth of an optimal number of eggs. The stimulation can last between 7 to 14 days and it can be done at home through injections. During this time, stimulation is monitored to estimate which is the best day for extraction.
3. Egg collection Egg retrieval is performed as an outpatient procedure under light anesthesia and lasts around 20 minutes. The procedure involves inserting a needle through the vaginal wall and into an ovarian follicle. Once inserted in the follicle, a suction device placed to the end of the needle will aspirate follicular fluid that will hopefully contain egg cells. The same procedure is performed on both ovaries. "At IVF Spain, our goal is to retrieve between 12 and 14 eggs on one session", says Kormelink. The aspirated eggs will then be selected for freezing.