Erectile Dysfunction (ED) is a condition that involves difficulties in getting and maintaining an erection in order to engage in sexual intercourse. This condition can affect men of any age and can be caused by different factors, both physical and psychological. According to recent data, only a small percentage of men with ED seek for help. Erectile dysfunction can be a sign of an underlying medical condition, so getting effective treatment can also contribute to improving your overall health.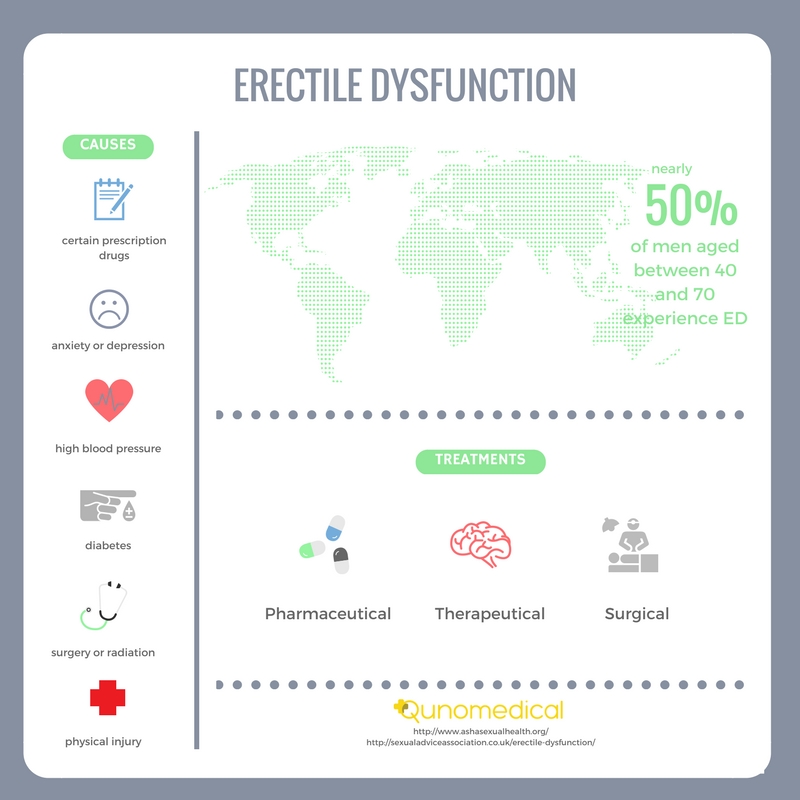 Causes and diagnosis
There are both physical and psychological conditions - or a combination of both - that can cause ED. The most common physical causes comprise high blood pressure, diabetes, heart disease, and physical injury. Psychological issues include anxiety, depression, stress, or fear of sexual failure.
Physical causes
Vasculogenic conditions: they affect the blood flow to the penis. They include: high blood pressure, heart disease, high cholesterol, and diabetes.
Neurogenic conditions: they affect the nervous system and include Parkinson's disease, multiple sclerosis, stroke, and spinal disorder.
Hormonal conditions: they affect the hormones, e.g. hyperthyroidism or hypothyroidism, Cushing's syndrome (high cortisol level), hypogonadism (low testosterone level).
Anatomical conditions: they affect the structure of the penis, e.g. Peyronie's disease.
Surgery and radiation therapy for bladder, rectal, or prostate cancer.
Injury to the penis, spine, or brain.
Side effect of prescription drugs: such as blood pressure medications, antihistamines, antidepressants, or ulcer medications.
Moreover, certain lifestyle choices can lead to ED, such as smoking, using illegal drugs, drinking too much alcohol, being overweight, and not exercising.