A hip replacement is a surgical procedure whereby an artificial hip joint (a prosthesis) is fitted to replace the damaged bone joint, delivering relief from pain and increasing mobility.
HOW DOES IT WORK?
The hip is made to work hard over the course of a person's lifetime. As a result, it can become worn and permanently damaged over time. When pain and immobility become too much to cope with, a full replacement is often the only long-term solution.
A hip replacement, or arthroscopy, is major surgery, and the entire process - from pre-operative assessments to complete discharge - can take up to a year. Surgeons have to completely remove the old joint and replace it with an engineered joint made with hard-wearing materials.
What is a Hip Replacement?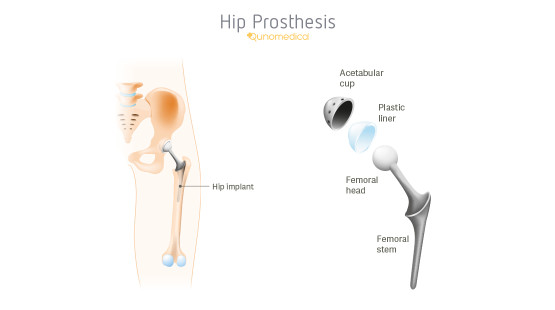 A hip replacement is a surgical procedure that involves the removal of a damaged hip joint. A prosthetic made with various metal and plastic components is fitted in its place. This is a major operation and is often a last resort due to the level of pain and immobility being suffered.
How Does a Hip Replacement Work?
Below a step-by-step description of how a hip replacement surgery works.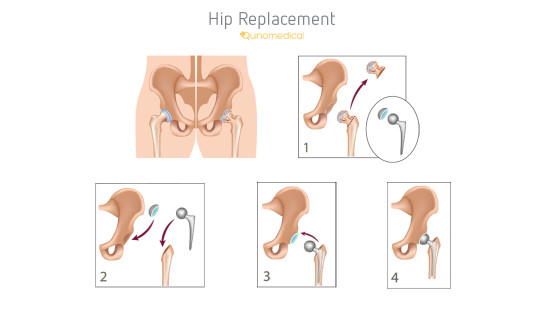 You are anaesthetised: After a series of pre-operative checks, surgery begins with the administration of a general anaesthetic. This relaxes your muscles and joints and induces a deep sleep. Occasionally, if you suffer bad reactions to general anaesthesia, a spinal anaesthetic might be given instead.
A large incision is made: An initial incision is made along the side of your hip. The muscles in the area are then moved towards to the top of the thigh bone in order to fully expose your hip joint.
The ball of the joint is removed: The surgeon uses a saw to remove the ball of the joint. The prosthetic joint is then attached to the top of your thigh bone with cement or a special organic material.
Your hip bone is prepared: Once the ball of the joint has been replaced, the surgeon prepares your hip bone by removing any bone spurs and smoothing the surface. The new ball section of the joint can then be inserted into the socket. At this stage, a drain may be needed to drain away any excess fluid. The muscles are reattached, and the incision is closed.
Are There Different Types of Hip Replacement?
The traditional method of hip replacement is highly invasive and leaves the patient in significant pain and discomfort afterwards. However, there is an alternative technique, and it's far less invasive.
Hip Resurfacing
Hip resurfacing is a less invasive alternative to a traditional hip replacement procedure with a far shorter recovery period. The surgeon starts by removing all of the damage to the surfaces of the bones within the hip joint. Once this process is complete, a new metal surface is inserted. This process involves removing a lot less bone and causes less pain. However, older patients and women with osteoporosis usually aren't suitable for this type of hip replacement surgery as their bones are much weaker.
For a while, hip resurfacing was very popular among younger patients. However, there are concerns that the metal surface inserted into the joint can cause damage and inflammation to the surrounding soft tissues.
Your doctor will be able to tell you what hip replacement procedure is best in your case.
What Should I Expect?
While relatively simple and routine these days, hip replacement is a very invasive procedure. Bone is removed, and a whole joint is practically dismantled and rebuilt. As a result, you should expect to be off your feet for several days after the procedure.
The road to recovery is long and requires a degree of hard work on the part of the patient. Physiotherapy is a large part of the rehabilitation process as the patient must learn how to use their new joint. Pain can be managed, but it can be particularly severe during the first few days after surgery. And mobility doesn't return straight away - it grows over a period of months.
You should expect the entire process to take at least a year. It is, therefore, a good idea to ensure you have both practical and emotional help throughout this period. But if you look after yourself and follow the doctor's advice, there's no reason why you shouldn't make a full recovery within 12 months of the surgery. Eventually, your new joint should provide you with relief from the pain you've been suffering with and greatly increase mobility.