Cleft Lip or Palate Repair is a procedure or series of procedures undertaken to correct a cleft lip or palate. If the top lip or the roof of the mouth does not form completely during pregnancy, the child will be born with a cleft lip or palate. One in around every 700 babies is born with one or both of these conditions.
HOW DOES IT WORK?
What is Cleft Lip or Palate Repair?
The repair procedures involve your child undergoing surgery to close the gap in the lip, palate or both. Cleft lip repair is typically carried out when the child is between three and six months old, but it is sometimes possible to do the surgery earlier. A cleft palate repair surgery is usually done when your child is between 6 and 12 months old. Your consultation with a surgeon will evaluate your child's individual circumstances and needs. The total cost of repairing a cleft lip and/or palate varies greatly as some children will only require one surgery while others may need to undergo several procedures as they grow. In all circumstances, the child should be monitored regularly until aged 21, when growth is likely to be complete. Cleft lip and palate repair are vital for the proper function of the mouth and nose. The surgeries are not simply for cosmetic reasons. From birth, babies may have issues with feeding due to the cleft. There is also the possibility of the cleft causing breathing, hearing and speech issues in the future. Repairing a cleft lip or palate improves the appearance of the condition but also works to prevent any related issues as the child ages.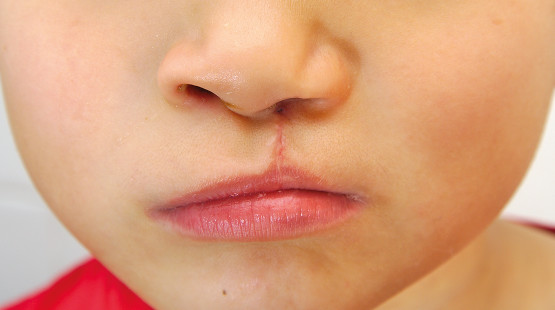 How does Cleft Lip or Palate Repair work?
1. Consultation
During a consultation with your surgeon your child will be examined to ascertain the specific needs for surgery. Cleft lips and palates can take several forms and each requires a surgical technique that will ensure the best outcome. Qunomedical can help you find the right specialist - get in touch with us anytime!
2. Diagnostic tests
Before surgery, your surgeon will perform diagnostic testing including blood tests on your child. You will also be informed about any medications that should not be given in the lead-up to the surgery, and you'll be advised on how to prepare for the day of surgery, including how long before the procedure your child should not eat or drink. Your surgeon will discuss which form of sedation or anaesthesia they recommend for your child.
3. Surgery: Cleft lip and/or palate repair
On the day of surgery, the recommended intravenous sedation or general anaesthesia will be administered. For a cleft lip repair, incisions in the skin, muscle and intraoral tissue will be made on either side of the cleft. Both sides will be stitched together, closing the gap and repairing the cleft. Similarly, for a cleft palate repair, incisions are made on either side of the cleft and then the muscles and tissue of the hard and soft palate are drawn together and stitched into place. The procedures will be planned for aesthetic purposes but also to allow for growth.
4. Post-op care
Your child will be required to stay in the hospital for a few days after the surgery. Pain medication will be organised and you will be given instructions for feeding. Depending on the age of your child you may be required to administer a liquid or puree diet. Before going home, you will be shown how to care for and clean the surgical site.
5. Follow-up
You may need to visit the hospital after a few days to have the stitches in the lip removed, if they are not the dissolvable type. Swelling will take a few weeks to go down. The repaired lip or palate area must remain untouched as much as possible for a month following the surgery. Your child will likely need to wear arm covers to prevent them from touching their lip or putting toys or their hands in their mouth during recovery. A cleft lip repair will result in an external scar, which should follow the natural contours of the area and will fade over the years.
Are there different types of Cleft Lip or Palate Repair?
The repair technique used during surgery depends on the individual needs of the child and their particular cleft shape and size. The procedure generally follows the same steps as above.
What should I expect?
Cleft lip or palate repair is a necessary surgery for children born with the condition. Your child undergoing surgery is difficult at any age, especially as babies when they cannot communicate with you. The surgery is relatively short at 1-2 hours and should not result in a lot of pain. The recovery process can be difficult for the parents to control. Keeping your child's hands away from their face and out of their mouth can be frustrating for both you and your child. Your child should start to feel better after about a week and be well on the way to recovery after a month.