Breast augmentation with implants uses prostheses that are filled with a special silicone gel or saline solution. This surgery, also known as boob job, is a procedure designed to change the size, shape and contour of a woman's breast using implants.
HOW DOES IT WORK?
Breast augmentation, also known as boob job, is one of the most popular cosmetic surgeries. Breast implants are used to improve symmetry and proportion, or to increase or change the size of your breasts. Breast implants can be filled with a special silicone gel or a saline solution. Silicone implants are more popular because they offer a more natural look with less risk of rippling.
What does a breast augmentation with implants involve?


Breast augmentation surgery is usually performed as an outpatient procedure. Surgery can last anywhere between 1 and 2 hours. Here's what a breast implant procedure entails in steps:


1. Anaesthesia


During a breast augmentation procedure, anaesthesia can either be through intravenous sedation or general anaesthesia. The type of anaesthesia depends on your medical history, the procedure type, and the surgeon. You will discuss your options with your surgeon to understand which type of medication will work best for you.


2. Incision


The next step of a breast augmentation surgery is creating the incision. There are three main incision techniques that surgeons typically use. You will discuss with your surgeon which incision pattern is right for you. The choice usually depends on what incision is most suited to your anatomy and aesthetic goals.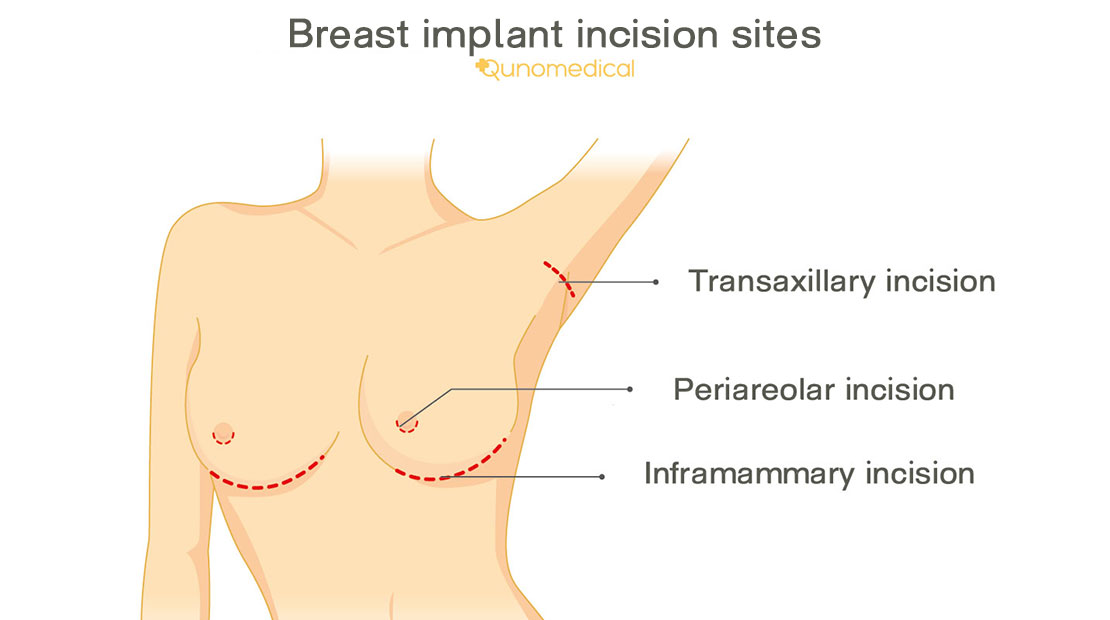 1. Periareolar incision

This type of cut is made along the bottom edge of your areola.
2. Inframammary incision

This site is underneath the breast along the bottom fold near where your breast touches your lower chest.
3. Transaxillary incision

This incision site is located in the bottom portion of your underarm.

Some plastic surgeons also offer the umbilical incision, or TUBA incision, where the incision is made within the belly button. This technique is rarely used.


3. Implant insertion


Once the incision is made, it is time for the surgeon to insert the implant. There are two main breast implant placement options: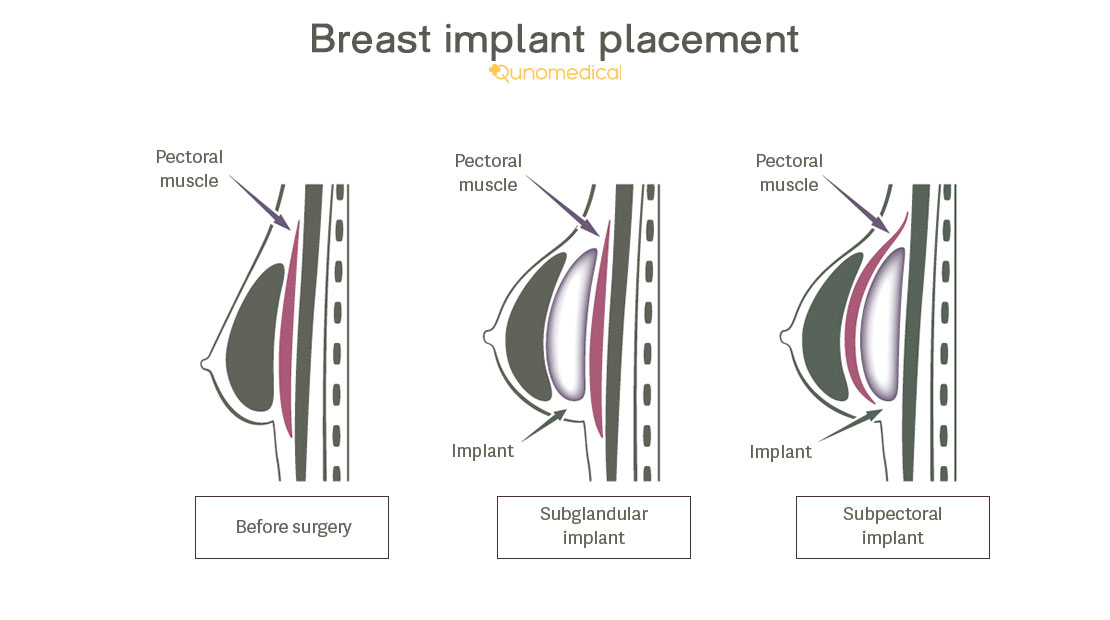 1. Subglandular implant placement

This method allows the surgeon to insert the implant directly behind your breast tissue and in front of the pectoral muscle.
2. Subpectoral implant placement

The implant is positioned in a pocket underneath your pectoral muscle.


Which method your surgeon uses will depend on your body type, your preferred implant type and how large the implants are.


4. Closure


The final step in the surgical process is for the incisions to be closed with stitches, medical-grade skin adhesive or surgical tape, depending on the incision site. Your breasts will be then covered with bandages.

If your surgeon used dissolvable stitches, your body will break them down within the next 6 to 8 weeks. If your surgeon used sutures that are not absorbable, they will be typically taken out after 7 days.


What breast implant shapes are available?

There are two main shapes for breast implants: round breast implants and teardrops breast implants.


1. Round breast implants

Round implants are the most common implant shape. They give a fuller and rounder appearance to your breasts. Although round implants are considered less natural, they are most widely used as they are less likely to rotate or shift out of place. Round implants come in four types, from low to high projection: low profile, moderate profile, moderate plus profile, and high profile. The higher the profile, and hence the projection, the greater the distance of the breasts' forward from the chest wall.

2. Teardrop breast implant

Teardrop breast implants have a sloped contour that fills out more the bottom of the breast as to mimic the shape of natural breasts.
Teardrop breast implants come in three shapes: round base, oval base, and classic base. Teardrops implants are the preferred option for those women who want to achieve a more natural look.


What should you expect from a breast augmentation procedure?

A breast augmentation surgery is a popular option for those women who want to enhance the shape and size of their breasts. At the same time, it is important that every patient has realistic expectations of what their breasts will look like. Understanding all surgery implications is also a fundamental step towards a successful surgery and recovery.



Making the right decision


Before making the decision to undergo the procedure, make sure that you are well informed about every aspect of breast augmentation. You should be mentally and physically prepared for surgery. Being confident with your decision and aware of each step of the process will make the whole experience easier for you. You should also consider that a breast augmentation might need revision. Your breasts naturally change over time, while the breast implant stays the same. This is why breast implants might not look as good as right after surgery after you have children, breastfeed or grow older. Moreover, you should also consider that weight loss and weight gain may also contribute to how your breasts look.


Physical discomfort


Following surgery, it is normal to experience swelling, discomfort, and soreness around the incision sites and breasts. Initial pain typically lasts 1 to 4 days. Your pain level should decrease week after week until it's gone. To ease your recovery, you should take a full week of rest right after surgery and wear loose-fitting clothes for the first few weeks.
Your breasts might feel very firm after surgery and that's due to the swelling. As the swelling subsides over time, your breasts will feel softer.
Regular checkups


It is recommended to do regular checkups with your doctor to monitor the status of your breast implants and prevent, or detect, any potential implant leaks. Depending on the breast implants you choose, you might need to replace them after 10 years from your first surgery.


Are breast implants right for me?

While breast implants are an excellent option to improve the size or shape of your breasts, they will not correct sagging breasts. In this case, you might need a breast lift in addition to breast augmentation.
Fat transfer breast augmentation is an additional option if you do not want to use breast implants. With this procedure, the surgeon will graft fat from another part of your body and inject it into your breasts. Designed as a stand-alone procedure, it can also be combined with a breast implant surgery to achieve better contour, especially in the cleavage area.
In general, every patient should be well informed about all the aspects of a breast augmentation procedure before committing to surgery. Make sure you read up on the treatment and discuss your options with an experienced doctor. If you need support, we are here to help you find the right one for you.