MCAN Health Hair Transplant Clinic
Istanbul, Turkey
NaN
English, German, Spanish, French, Russian, Arabic
About the clinic
MCAN Health Hair Transplant Clinic was opened in 2019 and is part of the MCAN Health Group, and offers various plastic surgeries, as well as weight loss surgery and even dentistry. The experienced medical team is led by Dr. Sefadiye Cesur, who has gathered considerable expertise over the more than 20 years she has been a surgeon. They perform high-quality hair transplant surgery, offering the FUE and DHI methods, using all the latest cutting-edge equipment like sapphire blades to acheive natural-looking results. MCAN's doctors provide each patient with the number of grafts medically and cosmetically suitable for them, and PRP treatment is included in every hair transplant procedure to reinforce the results. Extras like needle-free anaesthesia are available too, and for an extra cost, patients can even also receive stem cell treatment, which can improve the transplanted hair's density.
Patient satisfaction is the clinic's main priority, and as a boutique clinic that serves a maximum of six patients per day, they are able to fulfil a highly individualised experience for each. This personalised approach is also apparent in their follow-up plan; for instance, hair transplant patients will be contacted seven, 15, 30, 60 and 180 days after the operation with check-ins and ongoing recovery advice. MCAN's excellent, all-round service is reflected by their outstanding reviews, with TrustPilot scoring them a 4.8 out of five. The clinic's accreditation also demonstrates their high standards, with certification from agencies like Temos and the Turkish Ministry of Health.
International patients are very well looked after here, as a multi-lingual clinic where package deals increase the ease and value of travelling.
...
Accreditations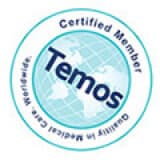 MCAN Health Hair Transplant Clinic is located in a quiet residential area in northern Istanbul, about a 30-minute drive from the international airport. Istanbul is a stunning city, located at the edge of two continents. Combining the best of the old world and the new, Istanbul offers gems such as the Hagia Sophia, the Grand Bazaar, the Sultan Ahmed Mosque. Along with basking in beautiful architecture, one can enjoy the various culinary delights offered by the city and relax at one of the many hammams.
Videos
YouTube Video was not loaded due to privacy settings.
Please check your cookie preferences and reload the page.
Medical team
Doctors
830
Treatments performed (2022)